🟪⬛ 02: Update your bio on your digital channels in 30 minutes
Check in on your profiles
Yesterday you positioned your artist brand by writing a pitch bio.
Today: Update your bio on your digital channels
Write down every digital channel your use as an artist.

Update your bio on each channel. Rewrite to the channel's format where needed.

Examine each channel. Does it conform to your new pitch bio?
The main purpose of today's assignment is to check in on all your existing profiles. We do that by updating your biography text with the pitch bio you've written yesterday.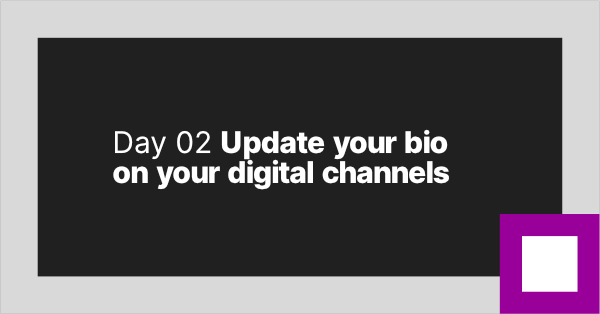 We're going to work extensively with your digital channels this challenge, so first let's take this opportunity to log into every channel you're using as an artist right now.
For each channel, update your biography according to the format the given channel requires you to. Some channels you may be using:
Website - Add your pitch bio to your landing page. Make sure your website is not primarily used to sell, use it as a branding tool.

Instagram - Limit to your 'why' and add some emojis. It's preferred to write your bio in first-person on Instagram if it fits your brand.

Facebook - There are multiple positions to share your pitch bio under 'Info'.

YouTube, Spotify, Apple Music, Bandcamp, SoundCloud, Twitch, Newsletter, …
Finally, take a critical look at each channel. Does the look and feel comply with the pitch bio you've written yesterday? Change only the things take less than a minute to change. Write down everything that takes longer and add them to a to-do list.
---
Decide where to speak in third- or in first-person. A first-person perspective works best on channels with a lot of interaction (like Instagram), but only if it fits your brand to speak in first-person. Are you an approachable artist? Speak in first-person. Are you shrouded in mystery as an artist? Speak in third-person.

Ask the community on Discord for feedback and take inspiration from your fellow challenge-takers. Especially your Instagram bio can be a piece of art in itself. Share some screenshots of your updated profiles on Discord. We create dedicated channels for each daily task.
- Bas and Carlo
---
Today is Black Out Tuesday
In order to show solidarity with recent events in the United States in response to George Floyd's death and the unequal treatment of minorities, the music industry is taking a day to reflect and connect to our communities under the slogan: #TheShowMustBePaused.
We created the Artist Lockdown Challenge to help musicians weather another crisis: the one brought on by the coronavirus. Music owes a lot to the community fighting for justice now. That's why today, our Instagram will be quiet for 24 hours to make room in the feed for posts pertaining to injustice.
An essential component of the Artist Lockdown Challenge is daily habit. Therefore, we still sent this task out and will be on Discord in order to help you find resilience by developing your digital strategy.
If you want to learn more or help, here's what you can do:
---
🟪 Need help with the task? Join us on Discord and get help from the Artist Lockdown Challenge community.
---
🟪⬛️ artistlockdownchallenge.com | @artistlockdownchallenge | discord