🟪⬛ 03: Create your artist brand checklist in 30 minutes
Translate your brand into content
You have written your bio pitch and checked whether your profiles match the tone. Today we make the first steps to translate your brand into content.
Today: Make a checklist for your content
Make a checklist to see if your outgoing content matches your brand.

Analyze five recent posts and give them a score according to your checklist.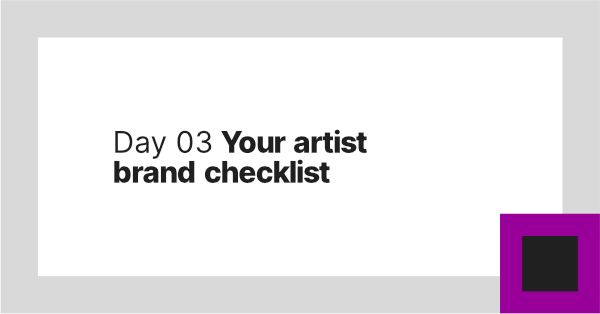 When we had you write your bio, we stressed that it's important for other people to be able to tell your story. Essential for this is consistency: your bio is not your brand, your brand is made up of the associations people have from everything you do. Translate the brand associations from your bio to points on your checklist, so you can do a quick check before making posts on your social channels or releasing anything from your artist brand.
A good checklist will have somewhere between 5 - 12 items. They can be functional, for example:
The caption is written in first person.

The text has no typos.

The band leader is in the photo.
The real challenge is in customizing a checklist according to your brand, through items that appeal to your emotional brand associations, for example:
This post will make fans smile.

This post will make fans think.

This post is inviting for response.

This is a colourful post.

This post will give fans energy.
An on-brand post will conform to ~90% of what's on your checklist.
Look at your new pitch bio and remind yourself of what it is you want people to feel, to think, to take away from you and your music. Remind yourself of how you want to achieve that. Then start writing.
When your checklist is done, go to your artist profile on your favourite social channel, take five recent posts and see how they perform on the checklist. It's easy to feel defensive about things you already put out, particularly if they took hard work and you're proud of them. But be brutally honest. Something can be great, but still off-brand. By identifying this, you can improve upon this later in the challenge and the future beyond that.
Give each item a score according to your checklist (something like 90% on-brand or 9 out of 12 points are both good ways to measure).
---
To make a 10-point checklist, it's better to write a 100 things down and reduce that to 10, rather than only writing 10 things down. Write down ideas, don't filter while you're writing them, and then drill down to the essentials.

While short bios may look similar to each other, with the checklist we'll see a more personal brand develop. Don't forget to share yours with the community on Discord for inspiration and feedback.

We also encourage you to share your assessment of your five most recent posts with the community on Discord. Share what you've learned with your fellow challenge-takers and support them with feedback for their assessments.
- Bas
---
🟪 Need help? Join us on Discord and get help from the Artist Lockdown Challenge community.
⬛️ Task done? We're happy to share the results: tag @artistlockdownchallenge on Instagram and we'll repost.
---
🟪⬛️ artistlockdownchallenge.com | @artistlockdownchallenge | discord