🟪⬛ 04: Set up your content calendar in 30 minutes
What to post when you have no news to share?
You might have figured out that we use the first week in this challenge to set the foundation for your digital strategy. We're slowly working towards assignments with more practical implications.
Today: Set up your content calendar in 30 minutes
Select your tool of choice for a content calendar.

Find a weekly theme for each of the next three weeks.

Create three posts that contribute to next week's theme.
Today's task covers a great struggle that many artists share: What to post on socials when you have no news to share? We solve this with a simple framework, which allows you to work ahead and still maintain flexibility. Introducing: your content calendar.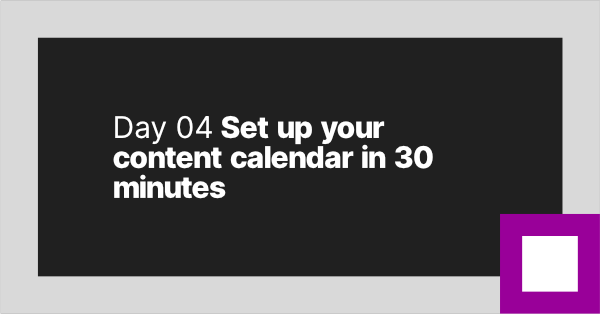 Choose where you'll set up your content calendar. I always use Trello for a content calendar, Google Sheets is a great alternative. Just start with one of those two free tools, don't spend too much time on tool selection. It's fine to change later. We'll post some content calendar templates for both tools in the dedicated channel for today's task on Discord.
Today we'll start with a simple iteration of a content calendar:
Every column represents a week. Each week has a theme.

Every row/cell represents a post. Each post contributes to that week's theme.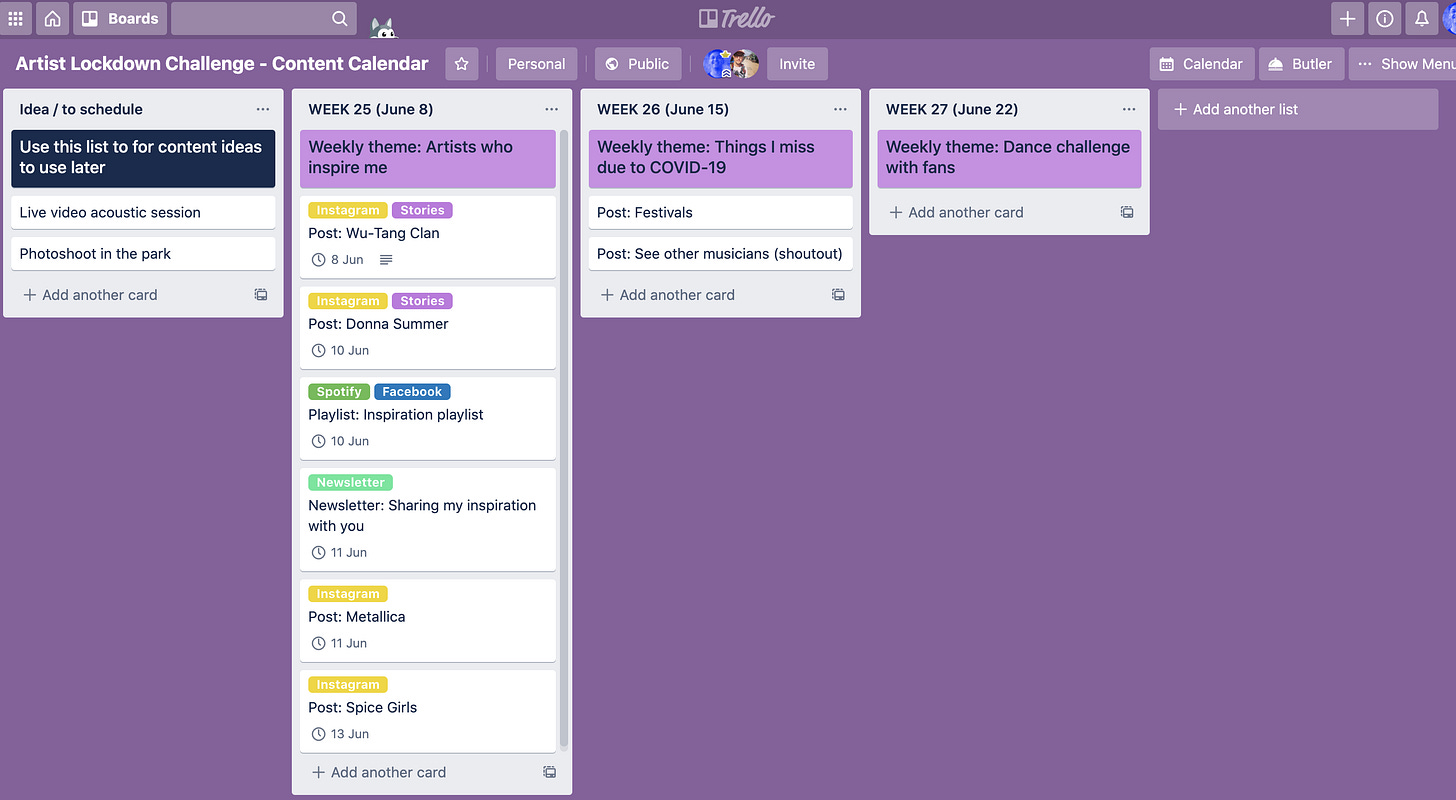 Now that the technical stuff is done, take on the challenging part of this challenge: Making the framework yours.
First, find weekly themes for each of the next three weeks. The concept of a theme can be described as the story you're telling your fans. Finding themes is not easy. The good news, however, is that you probably already thought of a lot of themes without knowing. Some tips to help you create themes:
Grab the pitch bio you created on day one.

Dive into the lyrics of your music.

Ask yourself: If you look on your Instagram profile three months from now, what do you want to see?

Is there something you want your fans to educate about?

Is there something you can tell your fans about you that they don't know yet?
Second, create at least three posts for next week. You know what to post about because next week has a theme. It's up to you to discover how to translate the theme into posts. Grab yesterday's checklist to make sure your posts align with your brand.
A short description of art (image) and copy (caption) is enough for this assignment, but off-course we encourage you to create at least three complete posts.
---
Try not to overthink today's task. The important learnings for today are to give every week a theme and to gift yourself a tool to work ahead on your social media. We will expand your content calendar in the next weeks.

We deliberately don't take new music releases into account. We know that finding weekly themes is much easier when you can talk about a new release. The purpose of today's task is to set a framework that helps you create content in all those weeks when you don't have a new release to talk about. (no worries, we will cover release and campaign strategy later this challenge)

To master your content calendar, try to work three weeks ahead. This gives you enough time to create content.

Stuck? Let other artists inspire you. Look at artists that appeal to you, learn what they post about. Get inspiration and feedback from the amazing Artist Lockdown Challenge community on Discord (shoutout!), where hundreds of artists are working together to complete these daily tasks.

- Carlo
---
🟪 Need help? Join us on Discord and get help from the Artist Lockdown Challenge community.
⬛️ Task done? We're happy to share the results: tag @artistlockdownchallenge on Instagram and we'll repost.
---
🟪⬛️ artistlockdownchallenge.com | @artistlockdownchallenge | discord