🟪⬛ 09: Build a playlist in 30 minutes
Keep listeners engaged and get your music discovered by other fanbases
We are continuing building your scene. Today, through a playlist that will also help you to keep your fans engaged, as well as get discovered by new ones.
Today: Build a playlist in 30 minutes
Build a playlist of music that fits together well with your own.

Add a mix of tracks of well-known artists and lesser-known artists.

Share the playlist with your fans immediately or add it to your content calendar.
Playlists are a great tool for helping your music get discovered, as well as keeping existing listeners engaged (one more thing to follow means one more thing to get updates from).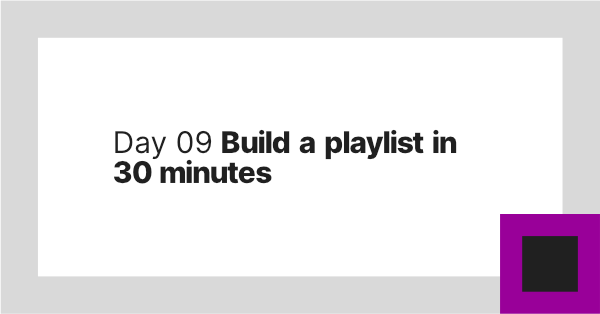 When your music is playlisted with other music, it makes it more likely people will find you through this music. Spotify's "Fans Also Like" feature on artist profiles is heavily influenced by playback from playlists. YouTube's recommendation engine also picks up signal from this type of playback. It assumes: if people listen to Artist A and Artist B, perhaps we should recommend everyone who checks out Artist A to check out Artist B.
We recommend building a playlist on YouTube and your favourite streaming service like Spotify (if you only have time to do one, skip YouTube for now). We will be coming back to these playlists in future daily challenges.
Make sure to have a mix of well-known and more underground artists:
Well-known artists help people who see your playlists understand quickly what it's about

Underground artists are for support (remember yesterday's task?) and it's more likely that recommendation engines recommend you from their profiles and songs.
Think of a good theme for your playlist that matches your brand, and when you're done add it to your content calendar. Oh, and we'd love to hear it, so share it on Discord.
---
Examples:
---
Tips:
Tag artists when sharing your playlists, e.g. on Instagram or Twitter. People like to know about these things. You also do fans a favour by being able to immerse themselves in your scene.

Make your playlist a recurring item (e.g. "format") on your content calendar. Adding new tunes to your playlist is a perfect message for your socials, even if it's just a quick Instagram Story. Make it something for fans to look forward to.

For those of you who felt uncomfortable with yesterday's assignment of sending a DM to artists you like: catch up today by mentioning you added that artist's track to your playlist.
---
🟪 Need help? Join us on Discord and get help from the Artist Lockdown Challenge community.
⬛️ Task done? We're happy to share the results: tag @artistlockdownchallenge on Instagram and we'll repost.
---