🟪⬛ 13: Create a basic acquisition campaign with Facebook Ads in 30 minutes
Get new fans with a Facebook campaign
Yesterday's task by guest mentor Charlie Biles explained how to create an audience of existing fans with Facebook Ads. Today we are expanding this topic by creating a strategy to acquire new fans.
Today: Create a basic acquisition campaign with Facebook Ads in 30 minutes.
Create at least three acquisition target groups with Facebook Ads Manager.

Write down some ideas - or create! - for your advertised content.

Define your metric of success.
[Like yesterday's task: If you are not ready to spend money on ads - that is fine. Today's task is all about defining audiences and not actually putting ads out. It will help you understand one of the most valuable methods of audience engagement and give you a look under the hood of Facebook.]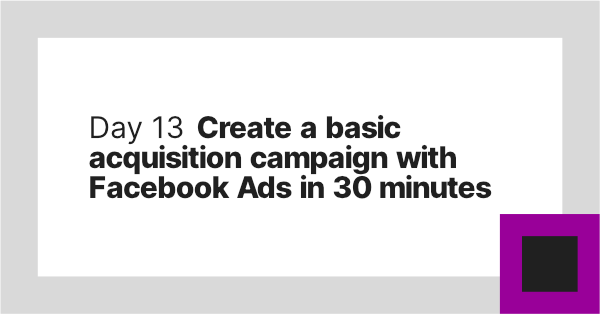 New fans come from the actions of existing fans. Therefore, make sure you've followed yesterday's assignment thoroughly. Retaining existing fans always comes first. That being said, advertising is a proven concept of acquiring and engaging new fans.
First, navigate to the audience page in Facebook Ads Manager again. You'll see the custom audiences you created yesterday. From here, create at least three new audiences.
Make sure to create at least one lookalike audience based on one of the custom audiences you created yesterday. Simply said: Ask Facebook to find people who are similar to your existing fans.
Click the blue 'Create Audience' button > Lookalike Audience > Type the name of your custom audience in the 'Select Your Lookalike Source' field > 'Select Audience Location' > Leave 'Audience Size' on '1' > 'Create Audience'.

Also, create a few 'Saved Audiences'. Saved audiences are defined by people's interests and demographics. Some saved audiences you could think of are people interested in the artists similar to you, clothing brands you relate to, festivals you really like to play, etcetera.
Click the blue 'Create Audience' button > 'Saved Audience' > Create your audience > 'Create Saved Audience'
Next step: Art & copy. What is the message and the artwork of your advertisement? We highly recommend a video for this exercise, and to be precise: A short vertical Instagram stories video. Perhaps you can use a video you created with day 10's task. First, Instagram Stories videos are *relatively* easy to create. The entire format of Instagram Stories means that your video doesn't have to be all that polished: a 10s selfie shoutout you film with your phone might work fine. 
More importantly, videos provide you with much more data than other media. You get insights into the time people spend watching your video, something you'll never get to know by using a photo.
This brings us to the last part of today's assignment: When is your campaign a success? Find a metric you can measure and define your measurement of success. Some examples:
Your campaign reached 1,000 people.

More than 300 people watched the video 3 seconds or longer.

10% clicked on a link.

Advanced: Costs per click are below 0,20 (enter your own currency 😉).
Test, learn, iterate. Repeat these steps until you find the perfect combination of audience, art and copy. 
---
Exclude the custom audiences you created yesterday, from today's target group. Today's challenge is targeted at new fans, so exclude existing fans. Marketing wise, the whole purpose of an acquisition campaign, is to grow your custom audiences of existing fans.

Make sure to narrow down your saved audiences as much as possible. Small saved audiences are of better quality than saved audiences with millions of people. The best narrowed-down saved audience, is a saved audience tailored to you as a person. Target yourself, create a custom audience narrowed down to your personal demographics (age, location) and an interest group like your personal favorite artists.

Keep in mind that you're targeting people who don't know you yet: what is the one thing potential new listeners and fans need to know about you?

Make sure to share your campaign with the Artist Lockdown Challenge community on Discord. We create dedicated channels for each daily task.
---
🟪 Need help? Join us on Discord and get help from the Artist Lockdown Challenge community.
⬛️ Task done? We're happy to share the results: tag @artistlockdownchallenge on Instagram and we'll repost.
---