🟪⬛ 14: Make a scroll stopper in 30 minutes
Catch people's attention on noisy social media platforms
Over the last days you've learned how to target audiences through Facebook Ad Manager. Today, we're exploring how you can grab fans' attention.
Today: Make a scroll stopper in 30 minutes.
Find a few scroll stoppers on social media.

Brainstorm ideas for creating a scroll stopper.

Make your scroll stopper.
Social media platforms are noisy. People scroll through feeds and tap through stories at an incredible pace. So over the last years, the concept of 'scroll stoppers' has emerged: pieces of content specifically optimised to get people to stop scrolling.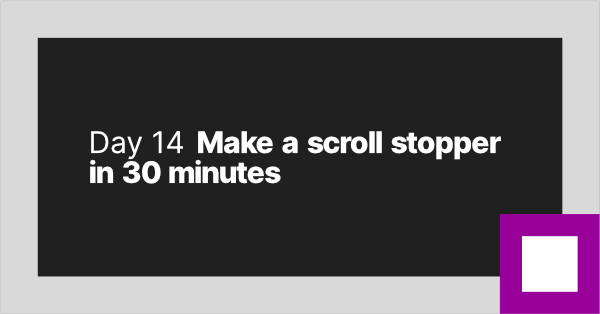 There are many types of scroll stoppers. For instance, if you're doing a sale of your discography on Bandcamp where people can save 30% and you're specifically targeting your existing fans, that 30% may be the thing to highlight. However, when people don't care about you yet, you need other ways to get their attention: strong and clear visuals, excerpts from reviews so people can connect you to something that's familiar, e.g. "harder than Slipknot". Etc.
For this task we will specifically be looking at Instagram's timeline and the audiences you created in yesterday's task. The question you want to answer is:
If your post reaches people who are not familiar with you yet, how do you get them to pause scrolling for a moment?
First, go to Instagram and start scrolling through the timeline. See which ads are better at catching your attention for a brief moment and which ones you just whizz past on your way to the bottom of your feed.
Next, use your favourite brainstorming technique to generate ideas for scroll stoppers. What I usually recommend is to first take 1 or 2 minutes to create ideas for rough topics you'd want to share with a new audience. Next, take a piece of paper from a printer, fold it into 8 parts. Set a timer for 8 minutes, and draw out your ideas in each panel not spending more than 1 minute each (this method is called Crazy 8's).
Now, pick your favourite idea or repeat for another topic - when picking your favourite, don't forget your goals of what you want to convey and to whom. The great thing about this exercise is that you will have visual ideas which you can then get to work on in free tools like Canva, Unfold, or your personal favourite. Make sure to look again at your artist brand checklist, so that your output is consistent with it.
Last step: post it to the community Discord channel and get feedback. Make sure to describe your goal and what type of people you're targeting. 
---
Keep it simple: sometimes a still from a music video is all it takes.

Don't forget: you're reaching out to people who don't know you yet, so make sure they will understand what it's about. You can also use scroll stoppers to speak to familiar audiences.

No landscape formats: you want your timeline item to be large and noticeable, so go for square or 4*5.

Make sure your ideas include an action, such as following your profile, watching a clip of a video, listening to you on a streaming service, etc. In other words: they've stopped scrolling - now what do you want them to do? (bonus points if you connect it to the metrics from day 13's task)

We recommend using video, because then you can grow your custom audience from day 12. Make sure to focus on the first second for scrolls topping. For the sake of this 30 minute task, it's fine if you skip video for now.

When using video, keep in mind that 85-90% of people have their sound switched off when scrolling through social platforms.

Think outside of the box: a long caption on a post can also be a scroll stopper - as long as the first line is attention grabbing.
---
🟪 Need help? Join us on Discord and get help from the Artist Lockdown Challenge community.
⬛️ Task done? We're happy to share the results: tag @artistlockdownchallenge on Instagram and we'll repost.
---