🟪⬛ 16: Set up your website in 30 minutes, by Síofra McComb
Take control of the most important aspects of online marketing
Today's task is written by Síofra McComb. Síofra is the Director of Positive Subversion, a newly formed company specialising in project management and marketing consultancy for independently minded artists and labels. Prior to that she was Head of International Sales & Marketing at !K7 Music, a board member for the Association of Independent Music (AIM), and has worked as a label manager and publicist. Some of the campaigns she's worked include releases by Run The Jewels, DJ Shadow, BADBADNOTGOOD, Peggy Gou, Nick Waterhouse, J Dilla, Tricky and more. 
Check out Positive Subversion at positivesubversion.com | LinkedIn | Instagram
---
Today, we'll be looking at setting up an effective artist website. If you already have a site, keep reading and see how you can improve yours.
Today: set up your website in 30 minutes
Figure out your needs and choose the right web builder.

Pick a domain name.

Start building.

Include the basics.

Add your Facebook pixel.

Add a newsletter sign-up.
Having your own website will make you future-proof for any inevitable shifts in social media consumption (how long are kids going to stay on TikTok now that their parents, aunts and uncles are on there too?) and is tantamount to building and communicating with your fanbase. Your website should be the beating heart of every campaign you run, as it gives you control over the most important aspects of all online marketing: your content, your data, your communication channels, and your D2C (direct-to-consumer) sales.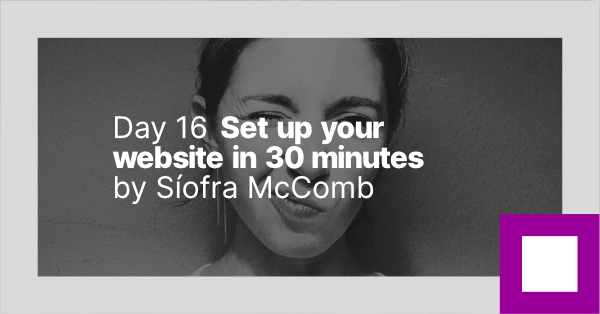 Figure out what your primary needs are for your website and go for the web builder that meets those needs. Does it need to have top-of-the-line online sales capabilities? Do you need help with the design of the site? Or do you need something that's free as you're short on cash? There's a great comparison here geared specifically towards musicians that can help you make the choice that works for you. All of the sites mentioned have their own D2C built in, making it easy for you to run your own store, too.
Pick a domain name. Pick something that's unique (or at least doesn't have millions of hits when you search on Google), something that's easy to remember and something that fits your brand. 
Start building your site. OK - this is where I start cheating a little. There's no way you can make this happen in 30 minutes. But if you spend 15 minutes a day on your site, within a few weeks you can create something amazing. Show your music, your videos, your events, your poetry, your merch items: the world is your oyster. Make it interesting and engaging - people who are on your site want to know more about you. Give them the chance to get to know you on your own terms. 
Don't forget the basics. Add buttons to the social media channels you're active on, and to all the major DSPs (digital service providers). This makes it easy for your listeners to find your music on the platform of their choice, AND it's about building your relationships with the platforms. Editors really do check websites when curating playlists, and if you're not linking to them but you do have links to their competitors, you will miss out on editorial support. 
When it comes to Spotify, think of adding a 'follow me' widget rather than just a link to your artist profile. This simple addition turns a passive button into an active Call To Action for people on your site. Find out how to create and add that widget here.
Add your Facebook pixel. You know when you've visited a brand's website and suddenly their products follow you around on Facebook and Instagram? Facebook pixels do that. Get smart and add your pixel to every page on your site so you can better segment your audiences and serve them with targeted ads (and save $$ along the way). Learn more about how to install pixels here. 
Add a newsletter sign-up. Email communication has one of the highest returns on investment in the business. Make it easy for your audience to hear about your new releases, shows, or merch items by adding a newsletter sign-up to your homepage and build one of the most valuable assets you can have: a list of dedicated fans. Mailchimp is free and easy to use, so there's really no excuse not to start gathering those emails.
---
If you have a little bit of time left, please check out the organisation 4Front Project. The 4Front Project is a member-led youth organisation empowering young people and communities to fight for justice, peace and freedom.
They support members with experiences of violence and the criminal justice system to create change; in their own lives, communities and society. 
Please consider supporting their cause. You can find more information here.
- Síofra
---
🟪 Need help? Join us on Discord and get help from the Artist Lockdown Challenge community. Síofra McComb will check-in on Discord to provide feedback and answer your questions.
⬛️ Task done? We're happy to share the results: tag @artistlockdownchallenge on Instagram and we'll repost.
---