🟪⬛ 17: Set up your Amazon Music profile in 30 minutes, with Mike Warner
Making use of one of the largest, most underrated streaming services in the world
Today's task is written by Mike Warner - Mike is the author of Work Hard Playlist Hard and provides streaming A&R services for a wide variety of artists and labels. Besides managing artist & label relations for Chartmetric, he's also a regular speaker at conferences like SXSW and produces and performs music as part of the indie electronic group Date Night.
Mike's masterclass series #CrashCourse | Newsletter | Mike on Twitter
You can also Text Mike on: +1 (310) 359-1637
---
With 55 million subscribers, Amazon Music is one of the leading music providers in the world. Prominent features include the ability to voice request any song in its library through Alexa devices that are prevalent in most households. While Amazon Music for Artists is still in beta mode, it's important to get a head start and make sure your music is available when requested.
Currently, the artist portal is only available on Apple or Android devices (smart phone or tablet).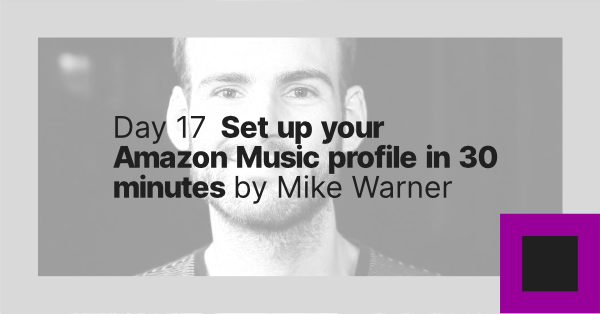 Claiming Your Artist Name
Download the app from the App Store (Apple Devices) or Google Play (Android Devices) on your smart phone or tablet. You will also need an Amazon account to be able to login. If you don't have one, there is a link to create a new Amazon account in the app.

Open the Amazon Music for Artists App and sign in with your Amazon.com account (or create a free one then sign in). Once in the App click the "Claim An Artist" Button. Type in your artist name, tap your artist name in the search results and then click "Take Me There" on the final screen.

Be sure to fill out ALL fields on the verification page, including "Company". If you aren't part of a company or record label, use your personal name or artist name. This has to be filled out and "company" cannot be left blank.

Select CD Baby as your distributor (or ignore if not distributed with CD Baby).

Click Facebook, Instagram and Twitter and sign in with them. This will expedite the process for non CD Baby artists especially. If you don't have a Facebook, Instagram or Twitter create them. It's well worth having an account on each of these sites with your artist name as this will allow for quicker verification for other sites in the future. It's ok to create a quick Instagram and just upload your album artwork. It helps you to get verified quicker.

Claim your artist by clicking Submit. If you can't see the submit button because a keyboard is in the way, press and hold elsewhere on your phone/tablet screen away from the keyword until the keyboard disappears. Then you will see the submit button that was hiding behind your on-screen keyboard.

Wait for an email from Amazon Music for Artists confirming you have access for your artists.
This could take up to two weeks, so you may have to refer back to these instructions.
Once you receive access via email:
Open the Amazon Music for Artists app on your smart phone or tablet and you will see your artist name. Tap it and explore!

If you claimed multiple artist names, click "Select an Artist" from the dashboard. This takes you to the Reports and Overview tab.
Update Your Artist Profile
While you can't update your artist profile directly within the Amazon Music for Artists App, you can email it to them:
Send an email to amazon-artist-central@amazon.com with a link to your artist page, e.g. https://music.amazon.com/artists/B00FE6G5VS
The image will need to meet these requirements to be accepted:
Landscape image

At least 3840 pixels wide and 2880 pixels tall

Artist face in the upper 40% of the image, roughly centered horizontally
Unfortunately, Amazon Music does not yet support artist bios.
Alexa
Tell fans to sing your music or request you with Alexa! Have your followers request you directly from their Alexa device. The Amazon Music team pays close attention to the number of request for an artist through Alexa. Requests can be made to Alexa using artist name, album name, song title or by singing part of the song lyrics.
Add your song lyrics to Amazon through LyricFind or MusixMatch as fans may not know your song title but they can speak (or sing) the lyrics to Alexa.
Get your fans to follow you on their Alexa device to receive notifications when you release new music.

- Mike Warner
---
Want more insider tips for Amazon Music, Spotify and Apple Music?
This course is an excerpt from a full masterclass series called #CrashCourse from music streaming expert and author Mike Warner. For access to the rest of the Artist Profiles CrashCourse, as well as a copy of Mike's best-selling book Work Hard Playlist Hard, we've set up a special discount code exclusively for Artist Lockdown Challenge participants. All resources are available at WorkHardPlaylistHard.com. Enter "ALC2020" at checkout for a 25% discount.
Disclaimer: the Artist Lockdown Challenge does not receive any financial benefits such as commissions from this. We included it, because we think it's valuable.
---
🟪 Need help? Join us on Discord and get help from the Artist Lockdown Challenge community.
⬛️ Task done? We're happy to share the results: tag @artistlockdownchallenge on Instagram and we'll repost.
---