🟪⬛ 21: Get digital marketing inspiration from other artists in 30 minutes
See how the major artists craft their ads
Perhaps the hardest part of being an artist is the amount of things you have to figure out and do by yourself. Over the past weeks, we've put you to the test: asking you to write bios, descriptions, create content like scrollstoppers and more. These are skills that you must hone until you have a team of people around you that can focus on some of these activities. However, there are some tricks that can make your life a little easier.
Today: Get digital marketing inspiration from other artists in 30 minutes
Spend some time with the Facebook Ad Library and see how other artists run their ads.

Look back at tasks of days 08 until 20 and review your work. Dive into the Discord channels and take inspiration from your fellow challenge takers.
Facebook makes it possible to see all active ad campaigns attached to Pages. This means that if an artist in your segment has a new album out and is advertising it on Facebook or Instagram, you will be able to see their ads without having to be targeted by them. This can give you fresh ideas and inspiration for all the various types of content you're crafting, so let's take a look.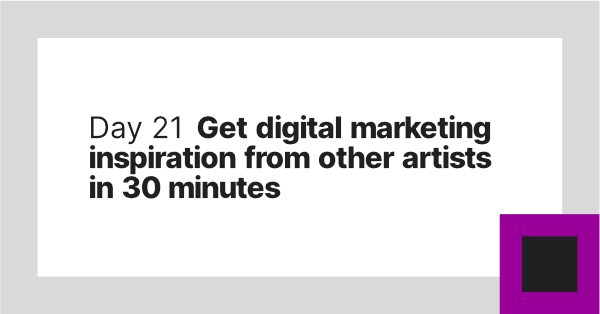 The Facebook Ad Library 
Facebook's Ad Library tool was introduced to help prevent foreign interference in social issues, elections and politics - after suspicious ads on Facebook and Instagram were used to influence the 2016 United States presidential elections.
Luckily for us, Facebook's ads transparency policy isn't limited to politics (unlike Google's). The Facebook Ad Library allows you to research literally every advertisement placed on the Facebook network, including Facebook, Instagram, Audience Network and Messenger.
Facebook's Ad Library tool is therefore the perfect place to look under the hood of other artists campaigns. Campaigns from artists you relate to, but also major label campaigns with seemingly unlimited budget run by the industry's top marketers and creatives.
Open the Facebook Ad Library and search for the names of some major artists who are in the middle of an album campaign. If you don't know any, open Spotify > Browse > New releases.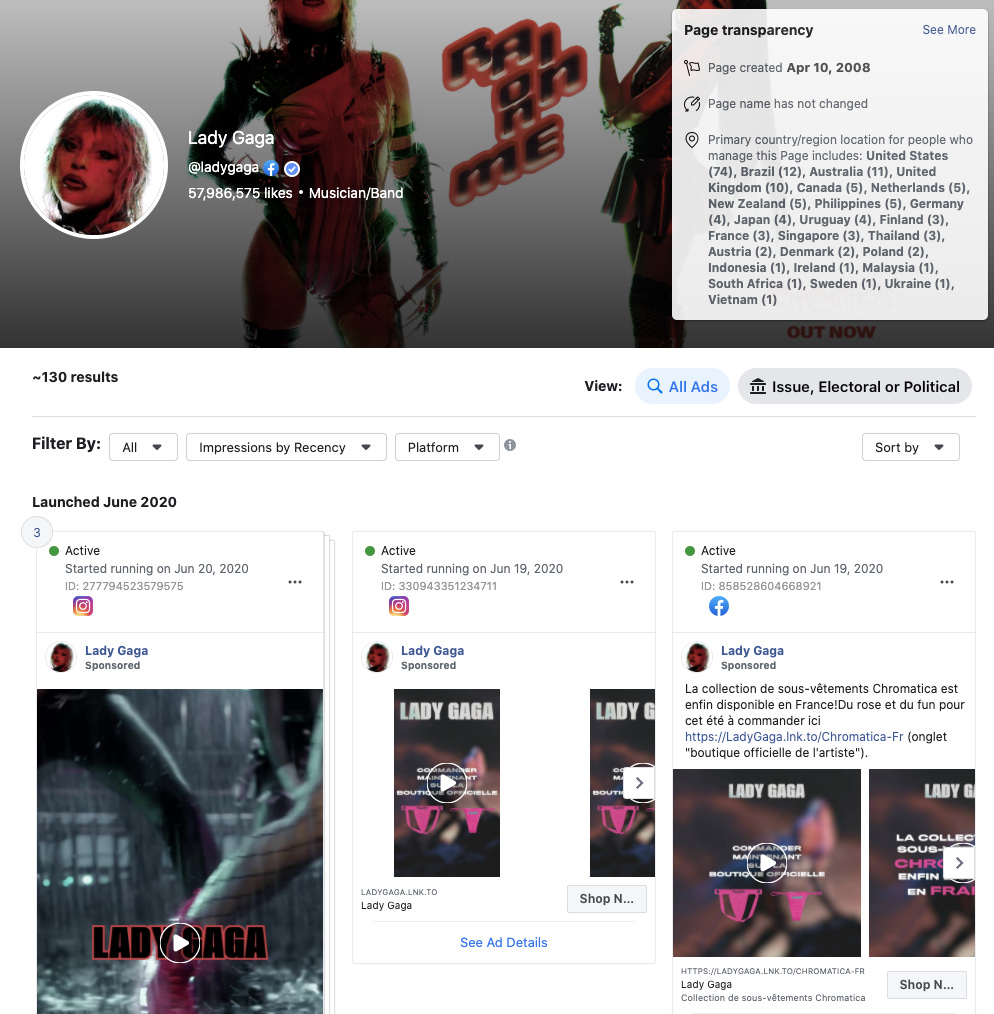 Adverts for Lady Gaga, promoting her new album Chromatica
See what ads they run. Look at the ad creatives. The platform they're targeting. The territories where the advertise and the location where the artists' page managers reside. The message. The call-to-action. What can you learn?
Now, search the names of the artists you compare yourself with. What do you see? How do you compare their strategies with the ones you created in the Artist Lockdown Challenge?
Reflect on the past weeks
The first week of the Artist Lockdown Challenge set the foundation for a solid digital presence. The past two weeks you got yourself connected with other artists and fans. Take some time to reflect and catch-up, as we prepare for the final nine days of this challenge. Make sure to spend some time on our Discord server to conclude the week. In our daily challenge channels, you'll find loads of examples, discussions, and extra insight into the challenges of last week.
---
What about other advertising networks? Google offers a similar tool, but limits it to political ads. Snapchat offers a CSV file with all political ads in one year. Twitter doesn't allow political or issue advertising anymore, but offers a downloadable archive of those ads.
---
🟪 Need help? Join us on Discord and get help from the Artist Lockdown Challenge community.
⬛️ Task done? We're happy to share the results: tag @artistlockdownchallenge on Instagram and we'll repost.
---