🟪⬛ 22: Extend your fan journey to monetization in 30 minutes
When retention starts translating into revenue
Last week we looked at the fan journey and specifically focused on retaining your fans. The next most important fan journey is the one that leads to revenues. This week: metrics & revenue. Let's go.
Today: Extend your fan journey to monetization in 30 minutes
Pick your most important channel for your digital scene, if in doubt go with YouTube.

Brainstorm retained fan journeys you want to optimize towards monetization from there.

Pick 3 of them and optimize them, removing friction along the way.
Today's task is not something you get over with and cross off of your to-do list. There are many nuances and with this technique, we'll make it easier to explore them and revisit your optimizations over time. Keep it simple for the task - for now we'll scratch the surface and in the coming days we'll get into additional ways to get even more out of this.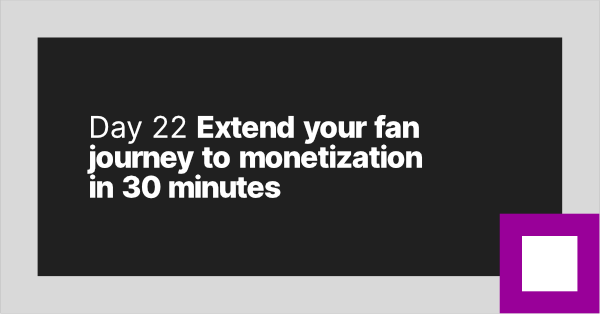 First, pick your most important channel for your digital scene. This is where new listeners hit the follow button and become fans. It's where your music and content gets recommended to fans of similar artists, it's where people see your comments and interactions and decide to check you out, and it might be where people end up after Googling you. For most artists, that's YouTube or Instagram. For some it might be SoundCloud or TikTok.
Repeat last week's fan journey exercise and look at your most popular tracks or pieces of content on your favourite channels. Consider your fan personas and think of people who you have already retained. How often do you think they listen to your music? How often do you think they see your content? What do they see? Where do they see it?
Does this content have a dead end for these fans? In other words: if they wanted to deepen their connection or commitment from there, is there a way to do so financially? If people wonder about merch, is there a way to get it? Is there a way to purchase a track they listen to, e.g. from Bandcamp? Tap through your content from the perspective of a new fan and a more long-term fan (it may help to first tap through the content of someone that you're a fan of yourself). 
Write them down and pick out 3 to optimize. When choosing, pick the ones where you think it's likely that some retained fans might have the thought of making a Bandcamp purchase, ordering vinyl, or merch. When optimizing, aim to remove 'friction' between your piece of content (the step of the fan in the journey) and the fan's goal (doing something that requires a transaction).
---
If you're using SoundCloud, consider using the Buy button.

For the sake of this exercise, I've focused on the two most obvious monetization types. If you have a Patreon or other type of membership model, sell or auction special items, etc. you may want to think about where you give these priority.

Including a purchase link may just be a simple courtesy: it saves the effort for people to search in on their favourite stores. It can be frustrating if people feel the impulse to buy something, but then struggle to figure out how to do it: it's lost revenue for you and you'll avoid the fan feeling frustrated.

Keep in mind: for this exercise we're not expecting you to try to sell stuff. Just make sure that the opportunity for someone to purchase is there, wherever they may think of it.
---
🟪 Need help? Join us on Discord and get help from the Artist Lockdown Challenge community.
⬛️ Task done? We're happy to share the results: tag @artistlockdownchallenge on Instagram and we'll repost.
---