🟪⬛ 25: Organize your metadata in 30 minutes, by Chuck Fishman
Make sure your music properly displays credit data
Today's task is written by Chuck Fishman. Chuck is a music producer, artist manager, and business development leader for tech companies. He works with George Clinton & Parliament Funkadelic (P-Funk).
fsqofficial.com | LinkedIn | Twitter | Instagram
---
Today: Organize your metadata in 30 minutes
Learn how music services credit you and the musicians involved in making songs you release for streaming.

Organize music metadata for delivery to digital distributors so that your music properly displays credit data.
Click here to download the spreadsheet Chuck provides all challenge-takers to use with today's task.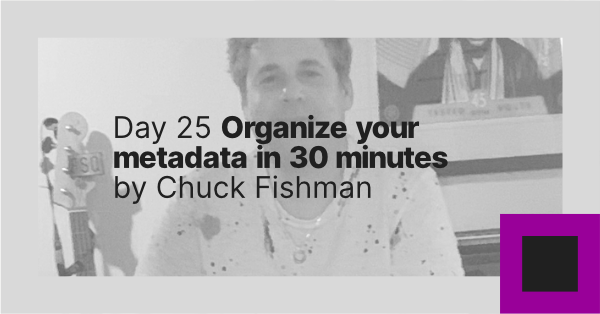 Get familiar with how music services credit creators
Go to individual songs you have released on your favorite streaming services - Apple Music, Spotify, Amazon Music, Deezer etc and right click on a song, to display "Show Credits" feature.
Not every streaming service offers song credits in the same way, for example, TIDAL offers more in depth credits like "guitar, bass, drums" for many releases, while Amazon Music only displays songwriters.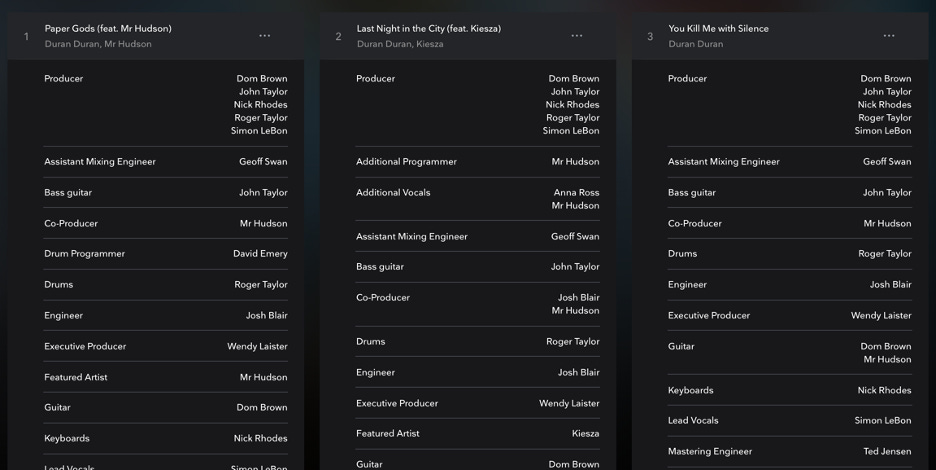 Tidal offers in depth credits for Duran Duran's Paper Gods album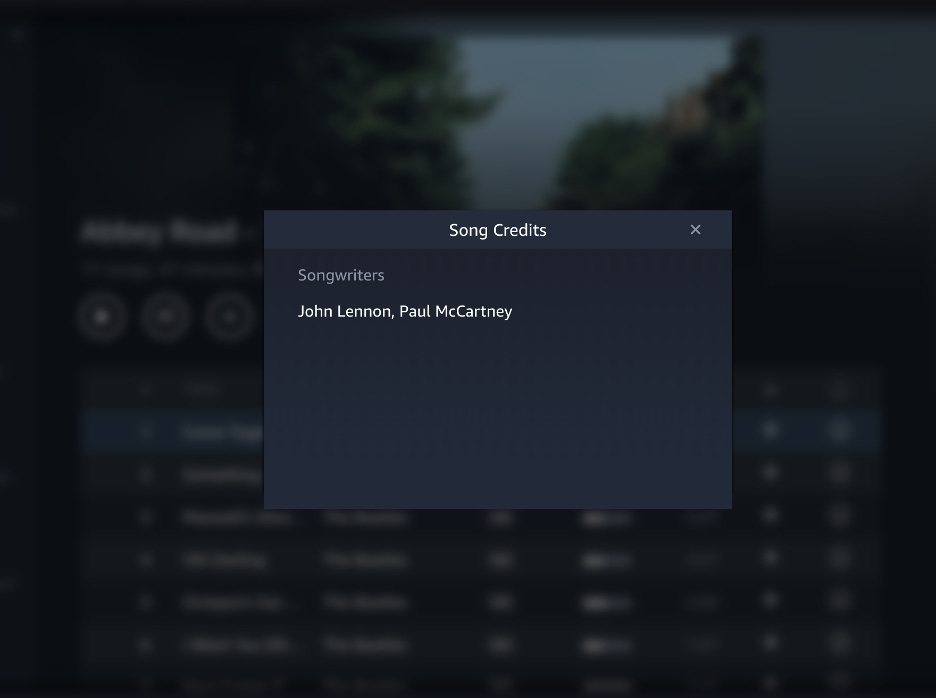 Beatles "Come Together" on Amazon Music only displays songwriter data under "song credits"
Apple Music and Spotify are leading the way in terms of offering a proper set of simple credit data. You should know the fields they display.
Apple Music credits offers:
Spotify credits offers:
Performed By (same as "Artist")

Written By (same as "Composer")

Produced By
Spotify goes deeper by allowing for the mention of producers on a song. Also remix producers or featured vocalists or performers are NOT counted as "Artists" on Apple Music credits data field. They can appear in the title of the song, but not in the "Artist" field unless they are listed as a collaboration with the main artist. Meanwhile, a remix or featured artist will appear on Spotify's "Performed By" credits data field.
Check your past releases to see if these data fields are filled in
In doing this task myself, I noticed an album I worked on as a producer -- Parliament's "Medicaid Fraud Dogg" has no proper credits on Spotify.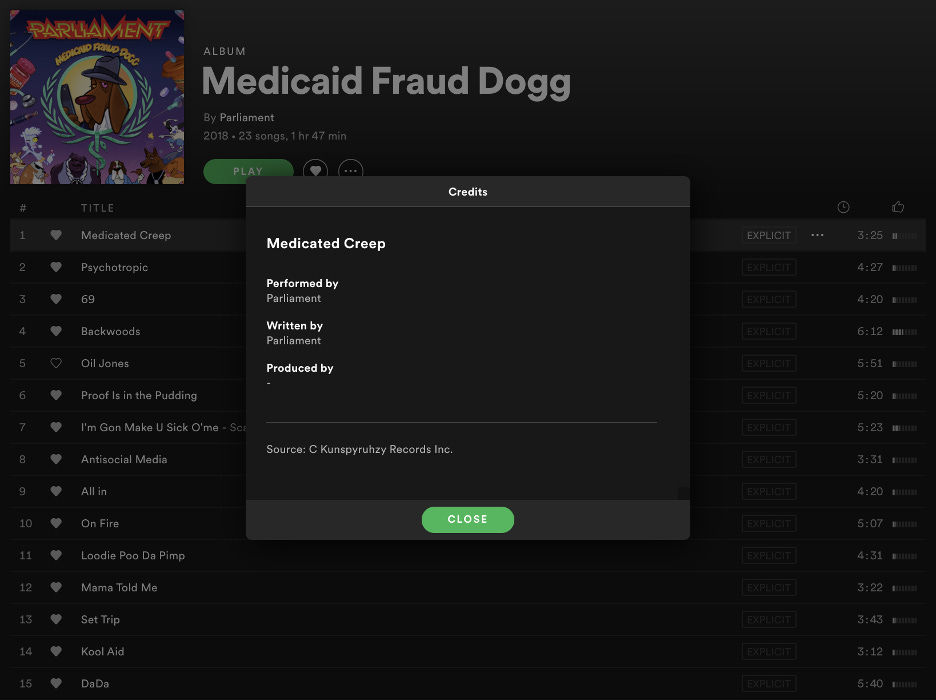 Yet the CD booklet shows you this song and every song has detailed credits, including "Written By" and "Produced By"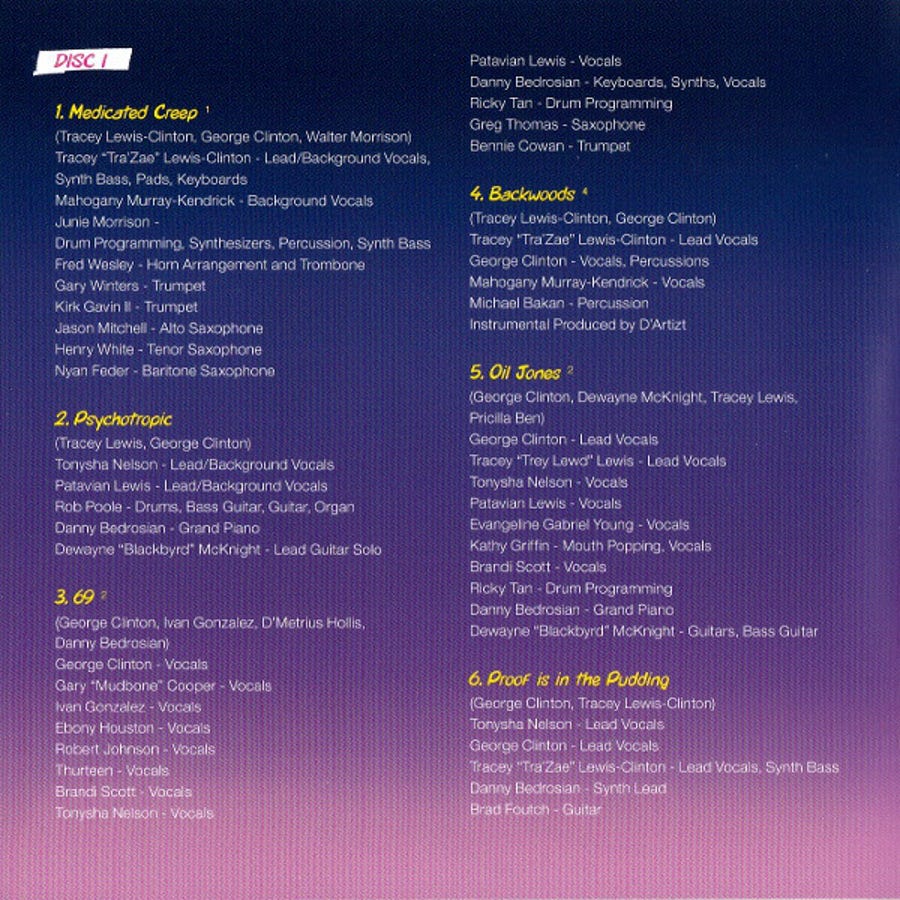 Some distributors, like Distrokid, actually upcharge you to be able to deliver the credits data to the streaming services. My guess is with the Parliament album, that because we were using Distrokid, that the full credits were not delivered. TIDAL would be able to accept and display the full Parliament albums credits beyond "Performed By" "Written By" and "Produced By" that are displayed on Spotify.
Check last music release on Spotify
..if it was distributed to the streaming platform.
Do the songs have "Performed By" "Written By" and "Produced By" fields filled in? If there are credits data missing, ask your record label or digital distributor what credit fields they actually deliver to the streaming services. If they are covering the delivery of those three credit fields - find out if you can supply them the missing data.
Independent artists who use a digital distributor directly to provide music to streaming services should familiarize themselves with where to input "Performed By" "Written By" and "Produced By" data in their distributor's data entry dashboard. The record label I am signed to for FSQ uses InGrooves and their dashboard allows for entry of full credits down to the level of listing out guitar players, drummers, audio engineers, etc.
Organize the credit data
Now that you are familiar with what credits should be delivered to the streaming services, in the second part of the task, I will help you organize the credit data, also known as music metadata for delivery to digital distributors so that your music properly displays credit data.
There are technology companies that seek to streamline the organization of music metadata and the direct delivery of the data to distributors, but these aren't uniform in their approach and do not work with all distributors.
I find using a simple Google Sheets / spreadsheet formula is the easiest way to capture the information so that when you log on to your digital distributor dashboard you will have the data ready to go for input, and organized in a manner that aligns with most dashboards. I am providing such a worksheet for you to use here if you are getting ready to distribute a release.
The first tab of the spreadsheet is a blank template you can use. For the second tab, I filled in the credits data based on a recent EP release from my record label mate, Life on Planets into that same template so you can see an example. The EP, called "Only You" has 5 songs.
For each song on your single, EP or album, there are three sections of data entry for each song you should be getting together for entry with your digital distributor or to send off to your record label. I have color coded these.
Green Section
Here you will list the "Main Artist" name(s) who the song belongs to. If you've collaborated with another artist on another song, you will list both main artist names. So for instance on the example copy of this template, track 4 of Life on Planets EP actually has two main artists listed - Life on Planets and Chas Bronz - since it is a collaboration between these two artists. If there's a featured artist, e.g. it's not a true collaboration, but maybe it's just a singer on a track, you list them under "featured artist". A remix producer's artist name is listed under "Remix Artist'. Note there are additional columns in the green section called "Apple ID" and "Spotify ID". To make sure there's no confusion about the artists you are listing, it's important to grab their artist profile links from those streaming services. Digital distributors usually ask you to point to the artists you are referencing in the metadata entry, using those links as reference.
Blue Section
Every distributor treats the data bit differently, but "Performed By" is usually the same thing as "Main Artist" from the green section of the data entry. But maybe there are a few performers - let's say the guitar player isn't in the group, and you want to give them credit, list them under the "Performed By" section. You can have a few names under "Performed By" and it can be given government names or artist names. Next list out who the song is "Written By" - again it can be a few names, and these are the actual government names of the song writers. Since Spotify also offers you the opportunity to list song producers, and now Billboard is even tracking producer credits for their charts, list out the song's producers. You write in government names or even artist names as the producers.
Yellow Section
Filling out this section to list out the detailed song credits e.g. who played bass, guitars, keyboards, drums, audio engineers. List government names and their corresponding role in the song making on the sheet. The distributor my record label uses - InGrooves - accepts full detailed credits for songs. You should list out these names and their roles in making the song at least for your own historical records. Again keep in mind many distributors do not accept the full credits, or in some cases they will charge you a fee to receive them. Then on top of that fact, remember only certain streaming services will display the full credits to music fans. If you want to display full credits to fans beyond TIDAL users, you can enter your release and full credits on Discogs.com. Discogs.com is a site that people use to research and sell music, primarily vinyl, but it's not a streaming service.
Extra credit
This metadata capture task is only to organize your credits data to give to distributors for the public display of credits on streaming services. The metadata has nothing to do in terms of who owns the song (publishing, copyright) or who the registered songwriters are and how they will be paid.
I capture that data in a separate sheet, to give to my publishing agent in order that they register my songs properly. You can see a blank template in tab 3 of my sheet. Tab 4 is an example related to the Life on Planets EP release, that we showed in tab 2 as far as metadata. I noted in Tab 4 that only one of the songs from the Life on Planets release was registered for publishing. For that one, I entered in the data from what's publicly available knowledge for that published song, titled "Friends In High Places". Another song on the EP, "Only You" is a cover version of Steve Monite's song of the same name, so the publishing on that song belongs to the rights holders for the original version.
There are several components of song ownership beyond copyright. First, there is the publishing company owner of the song, they receive 50% of performance royalties from streaming and many other sources like radio. Many independent artists create their own publishing companies to capture their performance royalties. Furthermore, it's common for one song to be owned by a few publishing companies. For instance, an independent artist may be splitting their publishing 50/50 with their record label and the publishing company they set up themselves. Then there are songwriters who get 50% of the performance royalties not captured by the publishing companies. There can of course be several songwriters on a song and their percentage ownership of the writing is determined by all parties working on a song. All publishing companies and songwriters are identified by an international number known as IPI / CAE. So in tab 4 what I have done as a template is create fields to identify the publishing companies and songwriters and their respective % ownership of each share, the 50% publisher and 50% songwriter share. It's beyond important to capture this publisher and songwriter data beyond the simple metadata, in order to register your songs with the publishers and to make sure the songwriters are paid. That's why I have also created this additional template on tab 4, with the example on tab 5.

- Chuck Fishman (FSQ)
---
🟪 Need help? Join us on Discord and get help from the Artist Lockdown Challenge community.
⬛️ Task done? We're happy to share the results: tag @artistlockdownchallenge on Instagram and we'll repost.
---