🟪⬛ 26: Make the most of Spotify in 30 minutes, with Spotify's Alice Young
5 pieces of advice directly from Spotify
Today we will go into how to get the most out of Spotify. It's the world biggest music streaming service, so you need to make sure you're set up right. That's why we're super excited to get advice from the Spotify team directly. Big thanks to Alice Young for taking the time to help everyone out.
Today's task is written by Alice Young. Alice is a product marketer obsessed with helping artists and their teams get the most out of Spotify. Formerly the Senior Marketing Director at artist and management services company mtheory, she's worked closely with such artists as Flume, Zedd, Cuco, Radiant Children and more.
artists.spotify.com | LinkedIn
---
Today: Make the most of Spotify in 30 minutes, with Spotify's Alice Young
Set your profile up right.

Nerd out on your data.

Promote your music.

Submit your music for playlists.

Do you.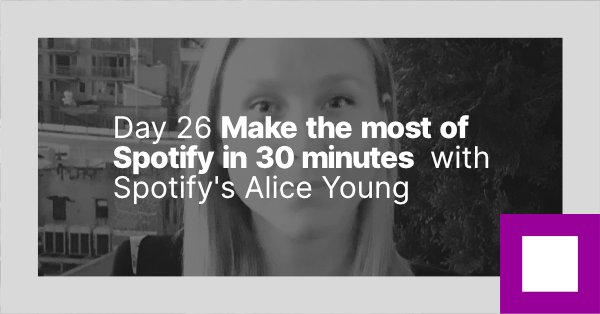 #1 - Set your profile up right. 
Your artist page on Spotify is your home base: it's where listeners come to learn about you, read your bio, check out your images, snoop your merch offerings, and more.
Start by claiming your Spotify for Artists profile (if you've not already), get your account verified and add your team members so they can help and support you. You can add images, change your bio, link to merch and tour dates, as well as annotate your Artist Pick or Artist's Fundraising Pick.
More best practices on this from our pros here.
#2 - Nerd out on your data. 
At Spotify for Artists, we've tried to make the experience of understanding your audience as clean and clear as possible. You can view things like: how many listeners are vibing out to you in real time, where your audience is at the city/country level (i.e: if you're popping off in Bangkok, you'll know), how many fans are saving your tracks to their library or adding you to their playlists, and so much more.
Get better acquainted with insights in this quick video - the deeper you dig, the more you'll learn. 
#3 - Promote your music.
Building an audience is key to success on Spotify. When thinking about engaging listeners on Spotify, consider where you're at in your release cycle. Getting ready to put out a new track? Encourage your fans to follow you, so that they get your forthcoming song in their Release Radar playlists. Actively promoting a brand new single? Build out a playlist that features your music, or some of your music interspersed with songs that inspire you, and share that with your fans on social media, promoting streams to your new single in the #1 slot.
Examples here or here. There are endless ways to get creative. 
#4 - Submit your music for playlists.
Using our playlist pitching tool in Spotify for Artists, you'll have the option of selecting one unreleased song for playlist consideration and pitching it to our team of over 100 editors around the world.
It's important to give us as much information about the track as possible — genre, mood, and other data points all help us make decisions about where it may fit. You can note the instruments on it, whether it's a cover, and the cultures you or the song belong to. The data you share will be complemented by what we already know about you — what else your fans listen to, what other playlists you've appeared on, and more.
It's crucial to submit 7 days prior to your release date.
#5 - Do you. 
Our goal at Spotify for Artists is to help bring you closer to new and existing listeners and fans all over the world; to equip you with the tools you need for success. But we know artists and their teams have so much to balance on a given day. Maybe you're run off your feet on the (virtual) road, trying to deliver masters by a deadline, approve pending merch designs, check your chart positions, negotiate a new distro deal, post on socials and take care of (or build) your team all at once.
Our goal is to be the best partner to you, from first release to last, and even past that, when you're all out of creative juice and sitting on the couch monitoring your on platform consumption. If the data is overwhelming, or if you have really strong creative convictions that might contradict the 'advice', stay focused and trust your instincts.
We'll be the insights partner in your pocket, your deep-dive on best practices when you have the time, your feedback loop along the way. We'll let you do the rest. 

- Alice Young (Spotify)
---
🟪 Need help? Join us on Discord and get help from the Artist Lockdown Challenge community.
⬛️ Task done? We're happy to share the results: tag @artistlockdownchallenge on Instagram and we'll repost.
---