🟪⬛ Day 0: How the Artist Lockdown Challenge works
Addressing the frequently asked questions
The daily task format 🟪
Starting tomorrow, June 1, each daily email opens with a task followed by an explanation. Through this explanation we intend to make two things clear:
Why this task is important, and;

What successful completion of the task looks like.
We will keep the emails as brief as possible in order to focus on action. We try to make sure each task is possible to complete in 30 minutes. If you want to invest more of your time, that will be possible, too.
---
Tasks that build upon each other ⬛
Each individual task will improve a certain aspect of your online presence, but in 30 minutes there's only so much you can do and we can get across.
The more tasks you complete, the more value you will get out of each previously completed task. The further you progress in the 30-day challenge, the greater your understanding will become of your digital strategy.
If it's unclear why a task is important, our advice is persist. We'll build upon it later.
In the final days of the challenge, we'll help you tie it all together into your own personlized strategy.
---
A community that supports 🟪

When you join us on Discord, you'll get access to a community of hundreds of other musicians who have joined the Artist Lockdown Challenge, as well as many of the music industry experts who are writing the daily challenges.
Discord allows us to chat with each other. During the challenge, each daily task will have its own channel, where you can ask questions and get feedback from challengers, mentors, and the organisers.
We'll keep the community open after the 30-day challenge.
---
Don't miss a thing
⬛ 
If you're using Gmail, we recommend setting up a filter for our emails. This ensures that you will always see our emails when they come in and easily retrieve all past emails, should you want to revisit something.
Type from:artistlockdownchallenge[at]substack[dot]com in the search bar at the top, like so:

Click the downward triangle on the right side ▼ and click the Create Filter button in the drop-down menu (next to the blue Search button).

Create a new label and set the emails to go to the Primary tab. We recommend the following settings, but you can opt for a shorter label like ALC: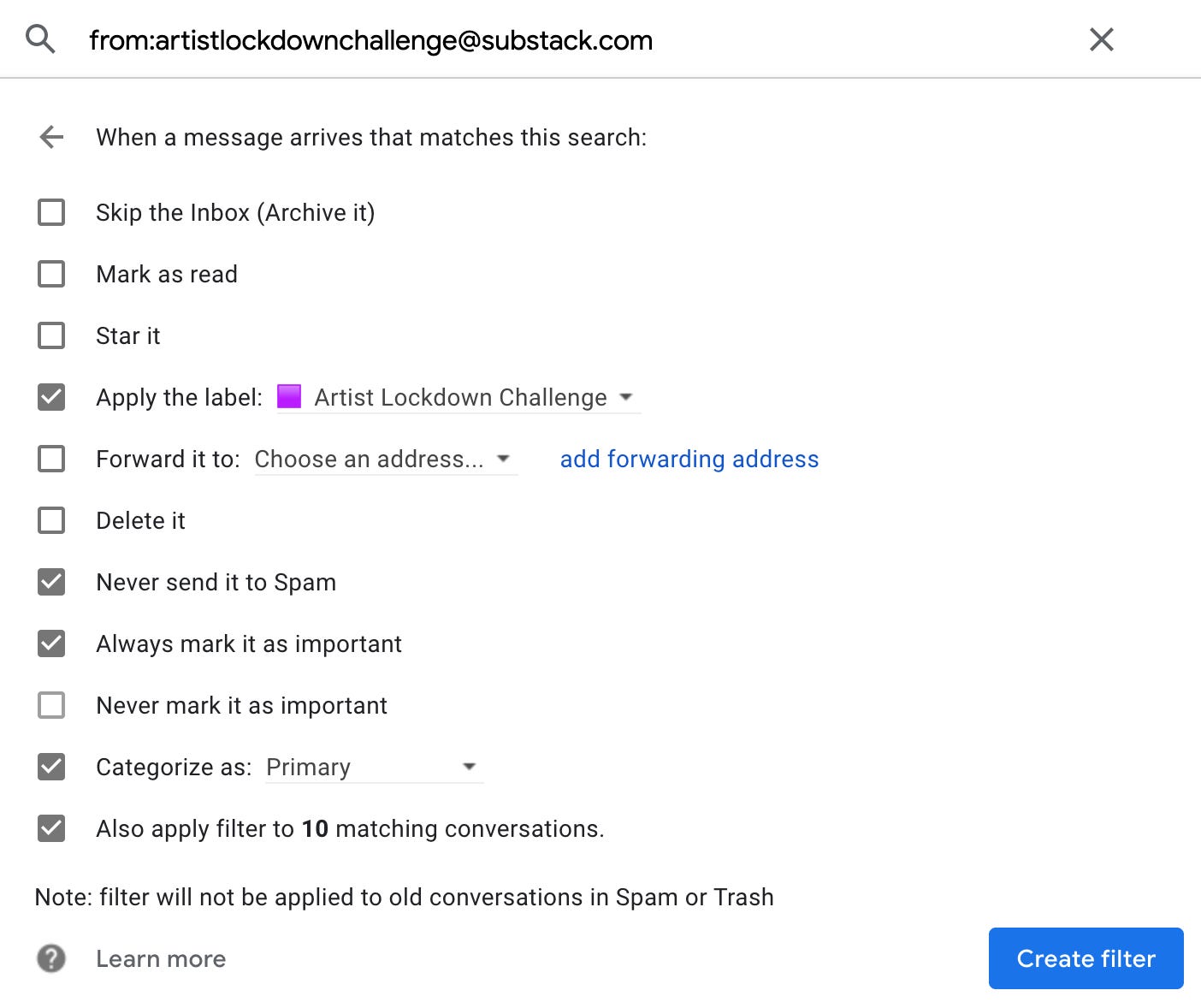 In the left sidebar, you should see your new filter. Hover over it, click on the 3 dots on the right, and choose a label colour.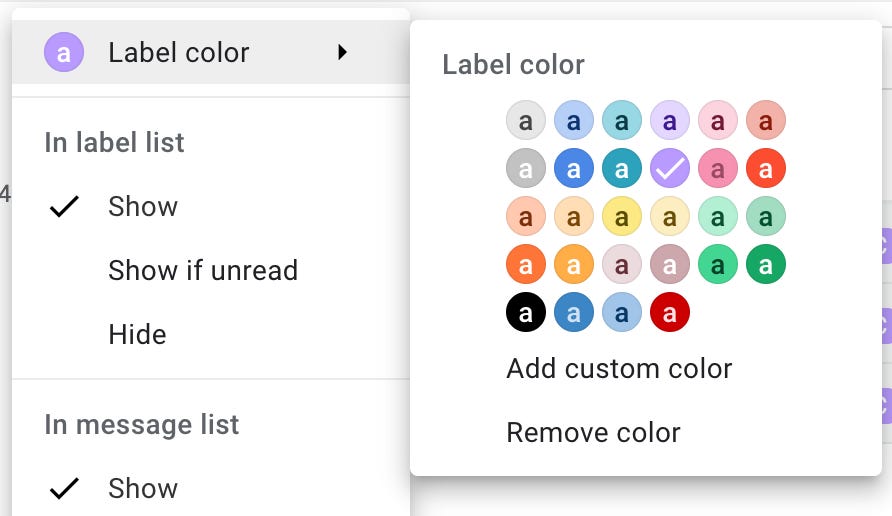 Our emails will now hit the Primary tab of your inbox directly and look something like this:

Not using Gmail? Most email apps have similar functionality. Doing a quick search will tell you how to do it, or come on Discord and ask for help in the Day 0 channel.
Our emails will come in daily at the below times, but feel free to complete them at whatever time works best for you.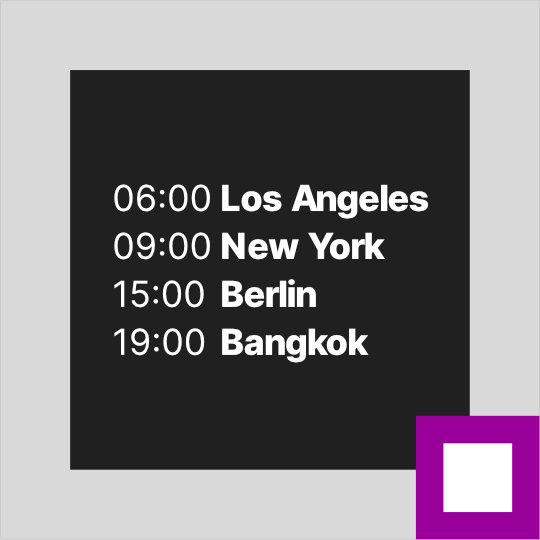 ---
Spread the word
More participants means more opportunity for support. It also helps us bring in prominent industry experts to lend their advice to the community. Help your musician friends out and let them know about the challenge.
We recommend announcing your participation in Facebook Groups and Reddit groups dedicated to music. You'll do people a favour.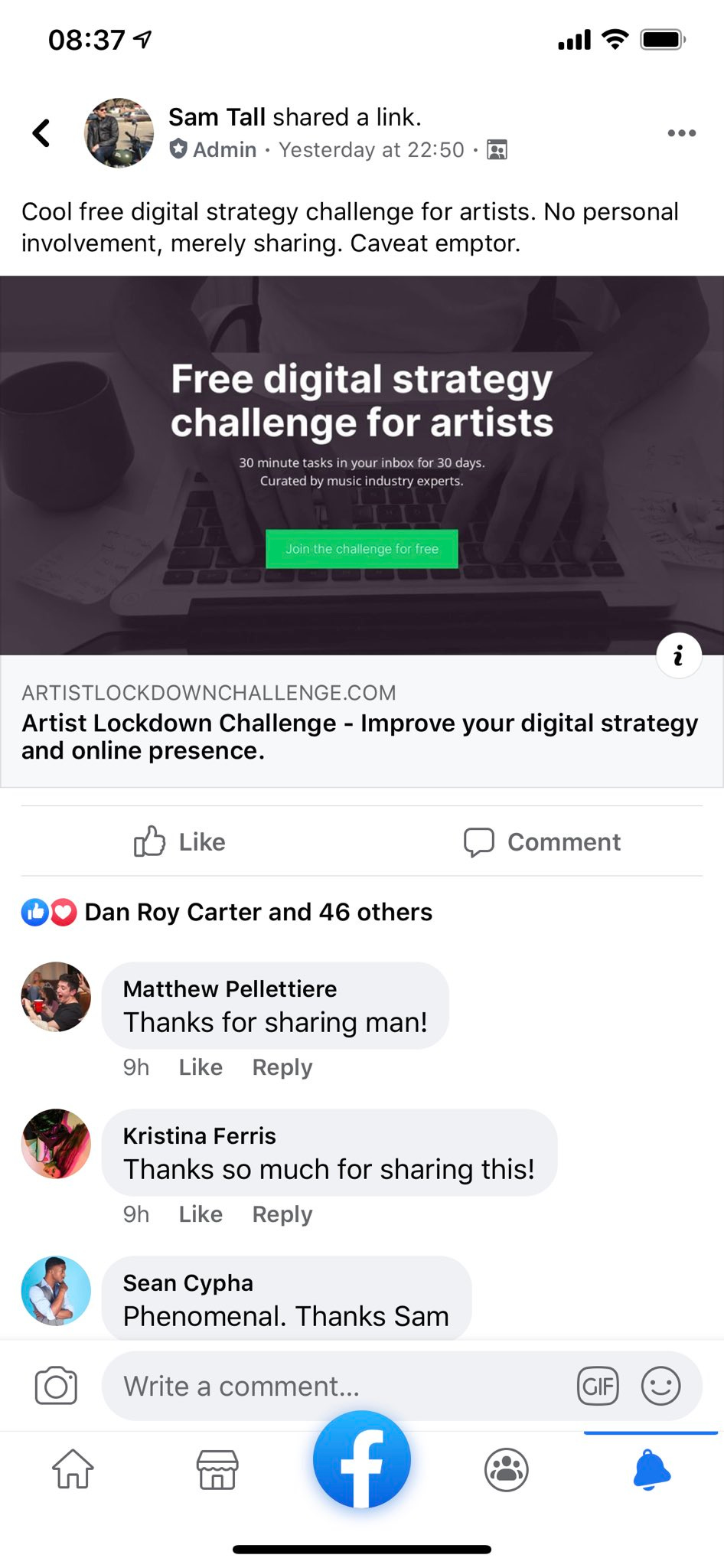 If you share it on Instagram, make sure to tag us: @artistlockdownchallenge - we'll repost so the community can get to know you.
The link for the challenge is: artistlockdownchallenge.com.
---
In case you missed it, we just announced our first batch of music industry experts who will be writing daily challenges. More will be announced soon.
🟪⬛️ artistlockdownchallenge.com | @artistlockdownchallenge | discord