Discover more from Artist Lockdown Challenge
30 minutes for 30 days: free digital strategy course for artists - starting June 1
Over 1,000 subscribers
🟪⬛ 28: Leverage your data with Soundcharts in 30 minutes, by David Weiszfeld
Track your music and socials with a data platform
Today's task is written by David Weiszfeld is the founder & CEO of music data platform Soundcharts since 2016. He started his career at Universal Music France as an intern and a few years later became Head of International Marketing / Development. In 2013 David left the label to create bSHARP through which he manages French electronic artist Petit Biscuit and a few other artists.
When you sign up to Soundcharts, you get 7 days free instantly - additionally, Soundcharts has offered a free month of their premium offering to participants of the Artist Lockdown Challenge, which you can claim by using the coupon code FREEMONTH upon subscribing.
Disclaimer: the Artist Lockdown Challenge does not receive any financial benefits such as commissions from this. We included it, because we think it's valuable.
David on LinkedIn | Soundcharts
---
Before you get started, go to Soundcharts.com and register for an account. It's quick.
Today:
Leverage your data with Soundcharts in 30 minutes,
with Soundcharts's David Weiszfeld
Make sure all your socials and music is fully tracked.

Find a piece of data you didn't know you had.

Leverage that data point.

Find 5 artists in your cluster and compare your performance with theirs.

Automate the reporting process.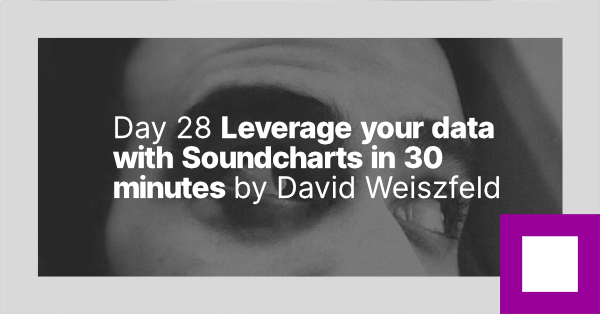 #1 - Make sure your profile is correct & Add your profile and Songs to your favorites for quick access)
Your artist page on Soundcharts will allow you to get a 360° view of your performance, however if your career is still early the platform might not have picked up all your socials. Let's start by adding any missing links. You can do so on any artist page (in the overview section where all socials numbers are displayed).
Then make sure to have a quick access to your profile or the profile of your latest single by starring them to add them to your left panel!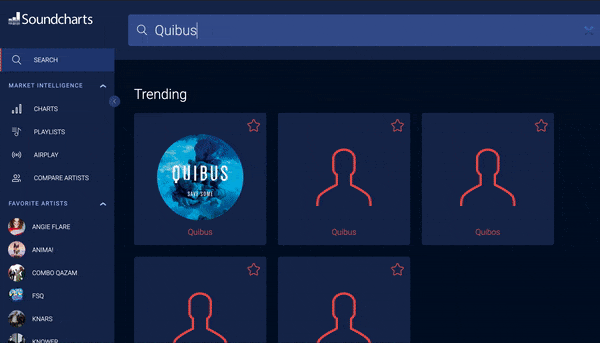 #2 - Find a piece of Data your didn't know you had
Soundcharts will allow you to monitor socials, charts, playlists, radio online media mentions all at once - let's dig in and find a piece of information you could leverage for more results. Look to find either:
A social media peak, on any of the platforms you have accounts on

A chart position for a song or EP/Album

A playlist that has a song from your

A radio playing your music

A media coverage talking about your release
The Dashboard allows you to switch from data type to data type in a single click, so play around with the tabs until you find something you didn't know you had.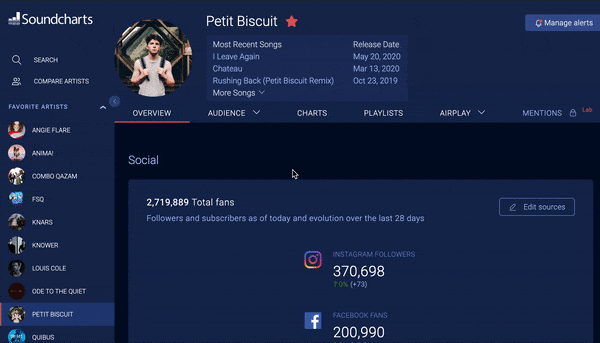 #3 - Leverage that data point
If it's a radio - tweet @them to say thanks - if it's a media tweet the article tagging the media - if it's a chart position or a playlist - make sure to tell your distributor and try to open more discussion on playlists strategy with them. If it's a social peak - look at your posts or any mentions you might have had on this specific day - in order words: maximize the leverage you can get on the first data you see.
#4 - Benchmark your performance against other artists
Using the "compare artists" feature you can benchmark your stats again any other artists to see if you're ahead or behind on streaming, radio, social media compared other artists.
This feature allows you to tweak your marketing and promotional strategies to have a cross platform & cross vertical campaign avoid blind spots while growing your profile(s).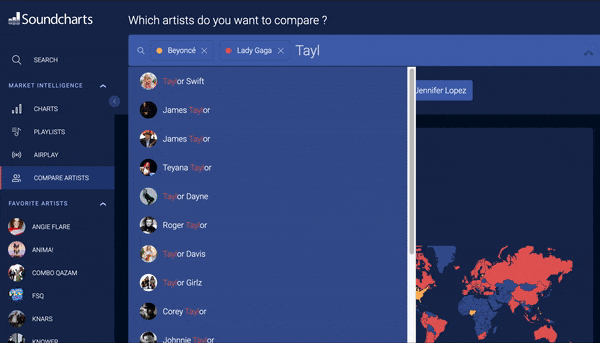 #5 - Automate the reporting process
You can activate your 'alerts' and 'notifications' to receive automated emails! While it's cool to dig in for data and insights, the best way to stay up to date in real-time is to let the data come to you. Go to your artist profile and click "manage alerts" - this will open the menu for you do so.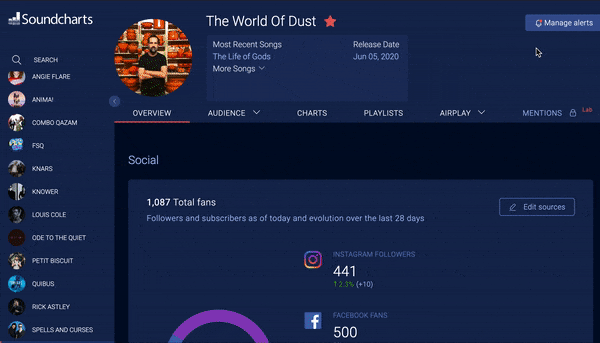 - David Weiszfeld (Souncharts)
---
🟪 Need help? Join us on Discord and get help from the Artist Lockdown Challenge community.
⬛️ Task done? We're happy to share the results: tag @artistlockdownchallenge on Instagram and we'll repost.
---