🟪⬛ 05: Write a press release for your next project in 30 minutes
A tool for telling projects' stories
Now that you've learned how to construct a story around yourself, let's dive into telling the stories of your projects.
Today: write a press release for your next project
Write a press release for an upcoming project (or idea)
When I start working with an artist, I always ask them to write a press release. We don't write a press release to actually send it out. We write the press release as a framework for storytelling.
It doesn't matter whether they write it for an upcoming album campaign or for a project that's just an idea. In many advertising companies, writing a press release acts as the starting point for every campaign they manage. Even large companies like Amazon kick-off new projects with the writing of a press release.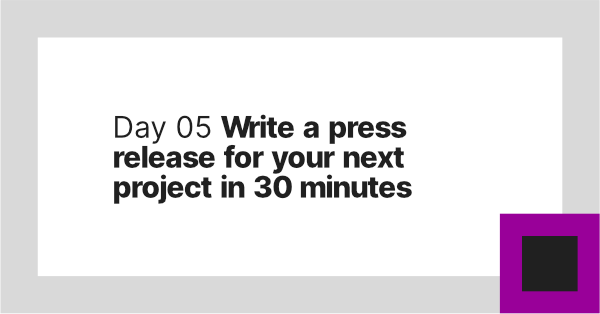 The main purpose of a press release is to determine how you're going to sell your product. It helps you find the story to tell. It also helps you define the criteria of your project and how you want people to talk about it when it's finished.
---
A press release has a standard format of a persuasive header and three paragraphs. Limit every paragraph to three sentences.
First paragraph: The actual news. 

Second paragraph: The story of your project.

Third paragraph: Your pitch bio.
Start with the second paragraph and take the same approach as you've done on day 01 regarding your pitch bio. What is the story of your project? What do you want people to talk about when they discuss your new project?
A project can be an album, single, remix, live show, merch drop, charity campaign, etc.
Then, move on to the first paragraph. Start with the actual news, which most probably is the announcement of your new project. Then share in one sentence a 'tl;dr' or summary of the second paragraph. Conclude with a short statement about your distribution: when and where will your project be available?
The third paragraph is easy: Copy-paste your pitch bio from day 01.
Finally, write a persuasive header for your press release.
Your final press release should have 3 paragraphs, each with 3 sentences. The second paragraph can have 1 or 2 additional sentences.
---
Here's an example press release Bas put together

Keep it short: Up to four paragraphs of up to three sentences.

Keep it simple: Journalists should be able to explain your story to their readers.

When writing, keep in mind how you want fans to talk about you and your project.

Ask the community on Discord for feedback. It's recommended to ask your fellow challenge takers for a second opinion. A check makes it stronger. We create dedicated channels for each daily task.
Start to write a press release as early in your project as possible. It's good to have a document to fall back on.
Writing a press release is an easy and simple exercise to find the story to tell about a project you've worked on for so long. Or, a project you haven't even started on.
- Carlo
---
Quick note
We love the effort, dedication, and support we have been seeing over the past days. This week, we have been focusing on your artist brand: the decisions involved in these assignments are hard. We're aware of that. You can really be proud of yourselves!
This weekend, we'll send a task through to let you catch some breath and tie together all we've been doing so far.
In the next weeks, we'll dive deeper into defining your fanbase, getting your music discovered, holding fans' attention, and identifying ways to generate revenue. This is also where the guest experts will come in.
Keep it up!
- Bas & Carlo
---
🟪 Need help? Join us on Discord and get help from the Artist Lockdown Challenge community.
⬛️ Task done? We're happy to share the results: tag @artistlockdownchallenge on Instagram and we'll repost.
---
🟪⬛️ artistlockdownchallenge.com | @artistlockdownchallenge | discord