Discover more from Artist Lockdown Challenge
30 minutes for 30 days: free digital strategy course for artists - starting June 1
Over 1,000 subscribers
🟪⬛ 29: Create a new stream of income with old music in 30 minutes, with Sebastien Lintz
Someone's 'trash' can be someone's treasure!
Today's task is written by Sebastien Lintz, co-founder of digital content marketing agency NXTLI. He entered the music industry through releases on dance labels such as Revealed Recordings and Spinnin' Records. His zeal soon propelled him to label manager of Revealed Recordings where he piloted the brand's rise to becoming one of the world's leading dance labels. Beyond his success at Revealed, Sebastien also spearheaded digital strategy at Sorted Management - home to top breakaway artists including Dutch icon, Hardwell. His industry defining projects include streaming the first dance event in 360 degrees, developing the first Facebook Messenger bot for a musician, and leveraging blockchain technology for transactions.
Sebastien on Twitter | LinkedIn | Instagram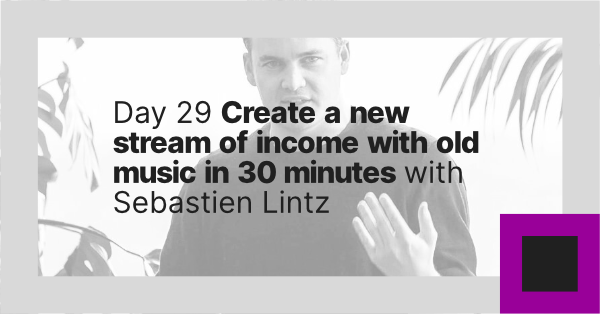 ---
Today's challenge is to look at your library of old projects to see which sounds and stems you can commercialize to create (literally) multiple streams of income.
Today: Create a new stream of income with old music in 30 minutes, with Sebastien Lintz
Collect all old projects and renders.

Sort your old projects into folders.

Upload them on stock audio websites.
The reason why you should sell old music as stock music, is that small and larger brands are continuously looking for music for YouTube content and ads. Licensing music is expensive for them. Using stock music platforms like AudioJungle can lower the license costs for brands, but create scale for creators such as yourself. 
Maybe 10$ is not much per license, but if you have hundreds of songs on your hard drive and if there are hundreds of thousands of potential customers, this new revenue stream can be a serious source of income. 
Income-wise, this long tail business is very predictable. This can give you some rest. Especially with the future of events being unknown due to corona, but one thing is for sure and that's we won't go back to normal soon. 
Don't wait around and act now. Someone's trash can be someone's treasure like the saying goes! 
Don't leave money on the table
Creating multiple streams of income can increase your revenue as an artist as you build up your catalogue. The more assets you put online the better the chance to increase your incoming revenue. What a dream would it be to live from music full time so you can focus full time on your career! 
If you really want to use old projects - maybe for an upcoming album or own productions - you should not use them to resell. But just make sure you're certain about this. There's a big chance you won't use it after all! This is a shame, you're leaving money on the table!
Collect old projects for a new stream of income
First, collect all old projects and renders and sort them in two main folders: KEEP and DISTRIBUTE. Those you want to use to distribute and make money on the side should be divided by genre, style and concepts. For example:
Background music - Chill - Piano - White noise - Meditation - Dance - Club - Radio - Jingles - Podcast music - Game music
Etcetera.
Next you should think of different project names and concepts.
Finally, start distributing them on all DSP's but also on Stock Music sites such as AudioJungle or artlist.io There are many sites out there. 
---
Tips:
If you have a large catalog, today's assignment can't be done in 30 minutes. Use your 30 minutes to make an inventory of your music and see what you have out there. Don't think your music is not usable for others. 

It's important to understand that today's task is about your music, not about your artist brand. You can choose to upload music to stock websites under your own artist name, as long as you make sure it fits your brand. Use your checklist (day 03).

Don't limit yourself to stock music. There is a lot of potential revenue in so-called 'functional music'. Like music to make you chill (mood music), music for gamers, music for meditation, etcetera. It could be really interesting to create another brand next to your main artist brand, and use that moniker solely to upload functional music of a certain category to DSP's such as Spotify and Apple Music. If you see a pattern or brand emerge in the music you put into the distribute folder, perhaps consider it as a commercial direction.
---
🟪 Need help? Join us on Discord and get help from the Artist Lockdown Challenge community.
⬛️ Task done? We're happy to share the results: tag @artistlockdownchallenge on Instagram and we'll repost.
---