🟪⬛ 23: Add a virtual tip jar to your website in 30 minutes
Buy yourself a beer with a simple donation button
Yesterday you extended your strategy with the monetization of your fan base. 
Today: Add a virtual tip jar to your website in 30 minutes
Apply for a payment service provider, like PayPal

Create a button and add it to your website
Tips, donations, fundraiser, support or simply buy me a beer. Whatever you call it, micropayments and digital tipping are becoming more and more normal. The traditional music industry lags behind on other industries on this topic. In entertainment industries like gaming and adult, tipping a streamer is one of the primary revenue streams and fan-to-artist interactions. In China, the micropayment economy is flourishing, with it constituting 70% of streaming giant Tencent Music's revenue. In Europe, the new PSD2 banking legislation will make it easier to accept micropayments in the near future. So it's a great moment to act now. And let's be honest, if we tip our Uber drivers, why don't we tip the artists and musicians we like? Let's change that today.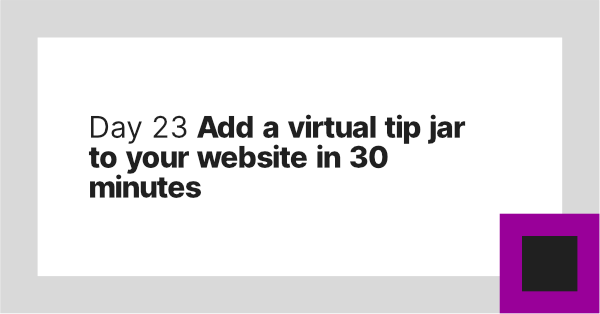 There are many strategies for fan donations and micropayments. Today's assignment lets you create a tip jar in its most simple form. We enhance a fan's loyalty and give nothing more back than your gratitude. This is important: do send a personal thank you back to people. Just observe how streamers give shout-outs to everyone tipping during the stream, or how some YouTubers mention every single Patreon supporter at the end of their videos.
We have challenge-takers from all over the world, therefore we will use PayPal as our example in this assignment as it's live in most countries and will accept payments from almost everywhere.
First, you'll set up your PayPal.me link. Simply go to paypal.me and follow the steps. Make sure to include a good photo of yourself. Set up the following things:
A tip-what-you-want url: paypal.me/ARTISTNAME

A link with a pre-set amount to tip: paypal.me/ARTISTNAME/AMOUNT

Example: A link with 1€/$/etc to tip: paypal.me/ARTISTNAME/1
These links will allow you to do a variety of things, which we'll handle further down in the bullet points at the bottom.
For the next step, set up a donation button by following the instructions.
Make sure you select the option that shows 3 set amounts for donations. Put one out of reach for most people, e.g. $50. Don't worry if nobody will select that: it anchors the price making the $5 tip seem more reasonable versus the $1 tip (you can also use this technique with merch). Don't worry: people can still type in any other number they want to tip.

Give fans the option to add a note and their contact details. Always reply to these. It deepens your connection and can turn a fan into a superfan.
Next, find a good place to add your button to your website. Keep in mind your artist brand: are you collecting tips? Raising funds towards studio sessions? Asking for donations? Want people to buy you a pizza, pineapple, or a controversial combination of both? Write it out.
---
The next step would be to create your own button instead of PayPal's pre-defined button. Most website builders (see day 16) offer buttons in their templates. If not, Google for button images or button generators.

Easy upgrade #1: Create three paypal.me links to set-up a pricing strategy on your website. Create three links with a pre-set amount. Create a button for each link and put it on your website. Example:

[Buy me a 🍺] [Buy me two 🍺🍺] [Buy me a round of 🍺🍺🍺].

Replace  the beer emoji with whatever fits your brand.

Easy upgrade #2: Instead of a PayPal account, use a Bandcamp. Refer your donation button to a purchasable track of yours on Bandcamp and let users pay what they want.

Feel free to set-up any other payment service provider like (but not limited to) Stripe, Donorbox, Buy me a coffee, Cash.app and Ko-fi.

Extend today's assignment by adding your donation link to Soundcloud and Spotify.
---
🟪 Need help? Join us on Discord and get help from the Artist Lockdown Challenge community.
⬛️ Task done? We're happy to share the results: tag @artistlockdownchallenge on Instagram and we'll repost.
---