🟪⬛ 07: Reflect on the story of you in 30 minutes
Tie together everything from the first week
The past week we've asked you to make some hard decisions. Today, we're taking the time to reflect and catch-up, as we prepare for a week of building connections and getting your music out there.
Today: Take 30 minutes to reflect on the story of you
Look back at the tasks of the first six days and review your work.

Improve the consistency, so your materials from the first days are aligned with your brand and each other.

Dive into the Discord channels and take inspiration from your fellow challenge takers.
The past week set the foundation for a solid digital presence by exercising the most valuable skills regarding digital strategy: defining your artist brand, creating short and persuasive stories and translating brand and projects into themes and posts.
We defined your artist brand with a pitch bio. Defining an artist brand starts with the realisation that you want to build a fan base. It's not all about music: as an artist you have the power to build emotional connections with people. Throughout your career, those people will connect with you and the main themes of your brand and become fans.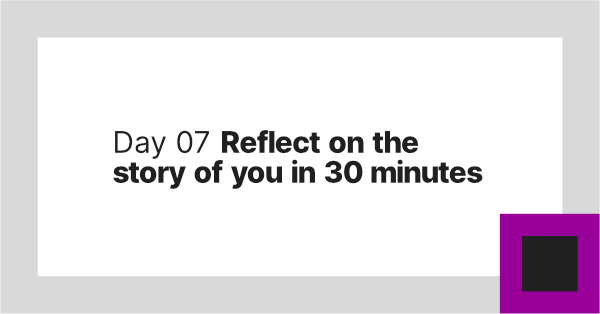 By providing fans a story to share, your fan base grows. We covered storytelling with the press release assignment. Nowadays as an artist, you have direct access to your fan base through digital media platforms. To keep fans engaged, you share stories that fit within the big picture: your artist brand. You set your platforms to a certain theme for a certain period of time. Like a season for a TV series.
Your weekly themes provide guidance in actually telling these stories. Compare them to episodes within a season. Your checklists helps you to make sure all posts fit your artist brand.
Make sure to spend at least 15 minutes on our Discord to conclude the week. In our daily challenge channels, you'll find loads of examples, discussions, and extra insight into the challenges of last week.
---
🟪 Need help? Join us on Discord and get help from the Artist Lockdown Challenge community.
⬛️ Task done? We're happy to share the results: tag @artistlockdownchallenge on Instagram and we'll repost.
---